Elder Gifts
Gifts For Older People
Gretchen Heuring | ElderThink | 04.11.09
Looking for gift ideas for the older people in your life? We suggest a few things here that are based on lifestyle. We admit that active seniors are the easiest to gift because they have so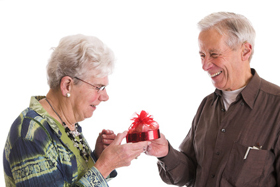 many interests. We also have some ideas for your loved ones who are not well or who are lonely.
Stage Of Life Is Important To Gifting
We think about a child's stage of development when considering a suitable gift but we often forget to think about the stage of life a senior might be in when planning to give a gift.
Seniors generally have three Stages of Life that are not
measured in years or age, but by health and ability. You would not consider giving a pull-toy to a ten year old child. You also should not consider giving a bed jacket to a senior who is in the active stage of life, is traveling, gardening, and is better at Yoga than you are.
So what are wonderful gifts for seniors in their various Stages of Life?
Gifts for Retirement Years
When beginning retirement, older people often do things they have been dreaming about for a long time. We travel, remodel, and even downsize our homes. We also do things that are less noticeable but still very important to us. We organize our things, develop our hobbies and collections, and often learn something entirely new. In many ways, we remake ourselves.
It may seem like we have everything but actually, almost everything we have is old. New linens for bed, bath or kitchen are welcome, as is just about any kind of tableware. A great gift for Dad would be a replacement for his older, heavy (and possibly unsafe) electric drill.
Best Gifts For Those Who Are Slowing Down
Slowing down usually begins with some sort of health problem or lingering sadness because of a loss. We don't go out as much. We enjoy our hobbies and collections and spending time with our friends and family. You could say that we live quietly.
Gifts that support our hobbies, collections and interests are welcome. Videos and talking books are great gifts. Puzzles, daytime courses and massage could all go on the list of possibles too.
A friend of mine gives her mother Taxi service. She contacted a cab company and arranged for her mother to have a passcode. The mother rides and a bill is sent to the daughter.
Best Gifts for Mobility Impaired
For many of us, the time comes when we just can't get around without help. We need support for dressing, bathing and cooking. We love you and want to communicate with you.
Gifts for the mobility impaired could be a box of cards and a new pen. Coffee table books with lots of pictures are fun for us, and if we have collections we will like new pieces. We like games too. Best of all, we like you to visit us.